About Chairperson – Mrs Alka Sharma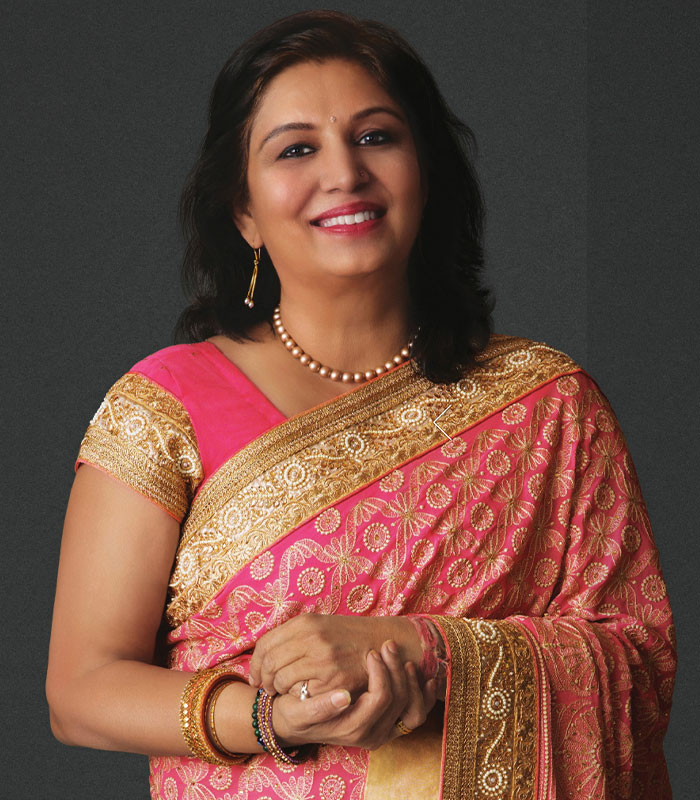 Mrs. Alka Sharma, Chairperson and the mind and soul behind our all institutions was born in the family of well-educated parents. Her father rose to the position of Chief engineer PWD Rajasthan. The seeds of her ambition to become an educator were planted in her mind at a very young age. At the age of 10 years, she nurtured the dream of establishing a school of her own. However, as soon as she completed her Plus Two, as in the custom of the times she was married at the young age of 17 and her daughter Pooja was born a year later. But this did not deter Sharma from continuing her education. She signed up for an undergrad program at a College, Jodhpur, and was awarded a science degree. Despite having to discharge parental duties, she pressed on to acquire postgraduate degree in English from Rajasthan University. Later Shri K.C. Sharma, her father-in-law, a former deputy director of education of Rajasthan provided her valuable advice and guidance to promote her institutions. She is a perfect blend of professionalism and caring mother like figure to all. Like all human beings, she faces many challenges but she calmly overcomes all the situations. She is very innovative and because of her innovative ideas CPS and Rockwoods are touching new heights day by day.
Our chairperson had a dream to have an educational institution in Udaipur that was very unique, class apart and one destination for all skills that it takes to be a perfect and positive human being with a well-rounded personality. Mrs Alka Sharma takes keen interest in all the pedagogies and all the innovative educational initiatives are her brainchild.
She has received many accolades for her impeccable and passionate work in the field of education.
They include:
● Computer Literacy Excellence Award 2003 presented by former President Dr. APJ Abdul Kalam
● The Lifetime Achievement award at the International School Awards
Children Should Have The Opportunity To Experience The Joy of Discovery And "Develop Love for Learning"
The entire aspect of Schooling today is undergoing a fundamental transformation, the world over. Those days are rapidly disappearing when few schools could "rule –the –roost" purely on the brand equity they enjoyed in the market place. Parents today critically assess the "returns" they are likely to accrue from their "investment" in their children's education.
It is, therefore extremely important for schools today to define themselves in the market place. What does our school stand for? What can parents expect from the school? 
We at ROCKWOODS International School are very clear about what we want to deliver. We strive to produce young minds who would want to engage in the world of knowledge, minds that are hungry for "more". It is our firm belief that if the process is right, the results will follow. At the same time, we are committed to develop and enhance "life skills" – the ability to communicate, to lead, to be a team player and to empathize. And most of all, we are committed to producing citizens with a secular world view, citizens who respect and indeed celebrate diversity, and see diversity as a unique opportunity to mold a strong nation. 
Our vision is to be acknowledged as an institute which provides quality education with modern teaching techniques with underlying traditional roots. Our belief is that all children should have the opportunity to experience the joy of discovery and develop a love of learning. To do so, learners must learn for meaningfulness. 
Information that is not integrated and related to previous experiences is discarded and replaced with the next piece of information. We do not believe in creating robots that demonstrate rote memory of course content. To us that is a waste of a child's youth and learning potential. We invite you to be partners in this wonderful process of learning.